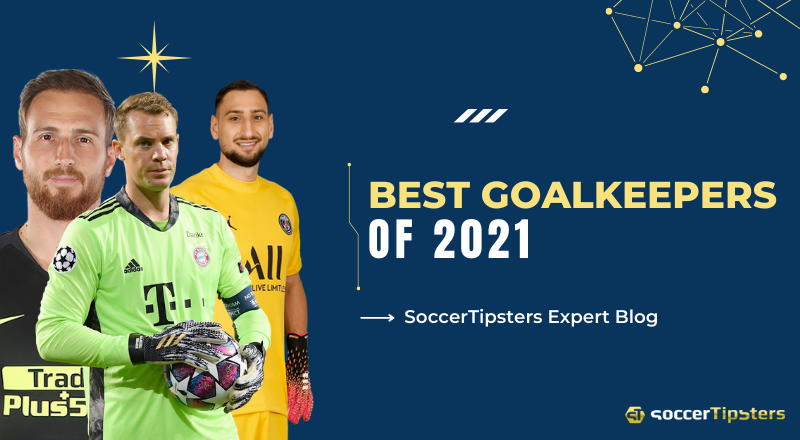 Footballer Reviews
Best Goalkeepers Of 2021
2021 Best Goalkeepers
Perhaps the most key and critical position on a football team is that of goalkeeper, who must not only become the last line of defense but must be the visionary leader of the entire team. A good goalkeeper defines the quality of a team. And it gives weight and character to what happens in each match. The defensive line is essential to protect the goalkeeper, but he can make plays that save the team when a goalkeeper is excellent. Below we select the goalkeepers who have had the best performance during the year 2021
Jan Oblak (Atlético de Madrid)
The 28-year-old Slovenian goalkeeper is Atletico's giant and one of the main factors in the League championship they conquered last season. Throughout the year 2021, he has amassed an impressive 23 clean sheets. Oblak has all the ability to defend against the rival's attack. Besides, he is good at saving penalties and influential in a one-on-one match. Oblak takes sport into an art form. According to many specialists, Oblak is the best goalkeeper in the world.
Manuel Neuer (Bayern Munich)
If a goalkeeper does not need an introduction, Manuel Neuer is the German giant. At almost 2 meters tall, so he is a giant. He is the leader of both Bayern and the German national team. Neuer has won every possible title in football and is one of the most interesting players in his position. For many, he is more than just a goalkeeper. His versatility and quality in handling the ball with his feet make him a type of the last defender. Manuel Neuer has a technical level that is easy to compare to great German goalkeepers like Oliver Kahn. And again, he is about to repeat another Bundesliga title with Bayern.
Gianluigi Donnarumma (PSG)
One of the most talked-about players by the international press is the young (22-year-old) Italian goalkeeper Gianluigi Donnarumma. His intelligence, talent, and technical level have already announced that he will be one or perhaps the best within a few years. His performance with Italy in the Champions League was simply masterful. Although his current stay with PSG is not entirely favorable (it is said that he is looking to be changed to another team, possibly from the Premier), he has been one of the best during the year 2021.
Ederson Moraes (Manchester City)
Brazilian Ederson is the most expensive goalkeeper in the world. And it's worth every penny. What he did for Manchester City in 2021 goes beyond any qualification other than sensational. Moraes has been a titan in the City and has been a guarantee when defending the team.
Thibaut Courtois (Real Madrid)
At 2 meters tall with incredible technique and strength, Courtois is the perfect goalkeeper for a team like Real Madrid. His presence on the field is impressive, as is his sharpness and ability to dominate all actions defending the goal. He has had an exceptional season in the year 2021 that will indeed extend until 2022 when Real Madrid tries to win La Liga.