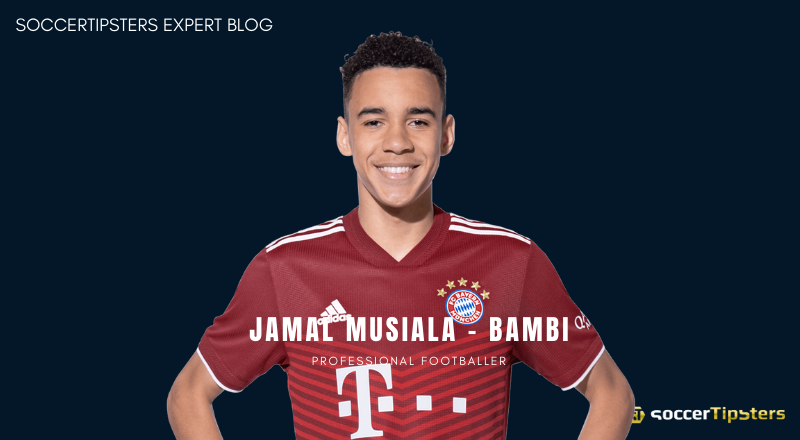 Footballer Reviews
Jamal Musiala: Bambi
Jamal Musiala Footballer Reviews
If a German team prides itself on having young future stars, Bayern Munich. They are the greatest Bundesliga team. So, one of their main characteristics is that when finding a young and talented player, they manage his career. And they manage it with intelligence, developing their career in the best possible way. Besides, they do everything they can to get him to stay with the club for as many years as possible. So, we have seen legendary players who have worn the Bayern jersey for many years. Even after retiring, they have become part of either the board of directors or training one of the lower teams. This characteristic of Bayern never rushing the development of their young talents makes them the great team they have always been. This year, they are getting closer to getting another Bundesliga championship. One player who promises to be one of the team's leaders shortly is Jamal Musiala, a forward who is just 18 years old.
Jamal Musiala: Bayern's Rising Star
Jamal Musiala has dazzled world football connoisseurs, and his playing style and maturity have earned him a place as one of the most impressive young talents not only from Germany but from around the world. The best news is that he is barely 18 years old. His youth training took place in England, and he played in the lower divisions of Chelsea until he arrived at Bayern Munich. So, he became the youngest player to debut with Bayern. Although he has dual citizenship (British and German), he decided to play for the German national team. Also, he is the youngest player to debut with the team.
The Compliments Are Unnecessary For Jamal Musiala
He measures 1.80 and is slim. Besides, its game characteristics are the source of so many expectations. Musiala can play in both bands. He is a player with excellent mobility and can also play as a central attacker. Regardless of his age, he has absolute calm and confidence on the ground. He is an agile, fast player. He can run, break, and keep control of the ball with excellent dribbling for as long as it takes. It is difficult for his opponents to steal the ball from him, as Musiala knows how to handle it and is a good passer. He also possesses a fine aim and a strong shot. One of his most relevant characteristics is that he does not play for himself. His collective game is impeccable, and despite starting on the bench, today he is a Bayern starter.
He is good at short and long-distance passing and can run with the ball, pass, and assist their teammates. The only deficiency that Musiala has shown so far is his lack of defense. He has the vision and maturity of offensive strategy and creation. But, defensively, he needs to develop his game. One of the problems is his physique. He is not an imposing player, and he is thin and has a hard time dominating rival defenders. But, surely, the experience will help him prove this aspect of his game until he becomes the star he can become.