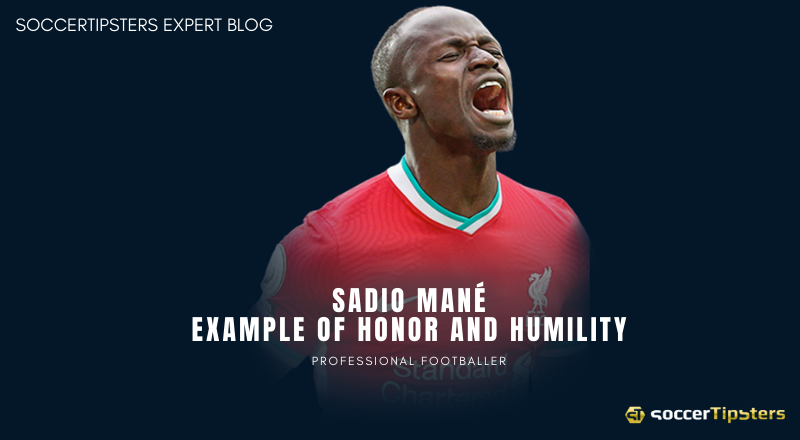 Sadio Mané - Example Of Honor And Humility
Sadio Mané Footballer
In the football world, his name needs no introduction. But, in case you know very little or nothing about football, we tell you that Sadio Mané is a Senegalese striker who plays for Liverpool in the Premier League. Correction: he not only 'plays' but is the brilliant star of that legendary team. Besides, at 30 years of age, he is one of the highest-paid players in the world. But, here, we will not talk about his excellent technique, speed, or the number of goals he has scored for Liverpool. But, just in case you want to know, he has scored 28 goals this season! There is something about Sadio Mané that surpasses all his achievements on the pitch: his humility.
Because of this virtue, he has become one of the best-known footballers in the world. This player breaks the schemes that we are used to for a soccer star. Sadio Mané does not attend extravagant parties, neither does he own many expensive vehicles, and never involved in scandals. Quite the contrary. Sadio Mané is respected and loved because he leads a lifestyle that contrasts with the attitude of many famous footballers in the world. Many football stars want to show off their luxurious lives publicly. However, Sadio Mané uses his resources to help people in need.
He is a man who says he doesn't need to go to parties or collect cars to make the world better. Instead, he helps by financing the construction of hospitals and schools. If anyone knows extreme poverty and holding on to a dream, it is Sadio Mané.
Sadly, like many African nations, Senegal is known for its extreme degree of poverty. So, Sadio Mané grew up in Bambali, a small Senegalese town in a remote part of the nation. Sadio was born into a large and poor family. He had many brothers and sisters, and his parents could not provide them with formal education. For Sadio, football was his only escape. He played in the street with his friends every day, often barefoot, since he had no shoes. His big dream: Play in the Premier League. But by then, a very distant dream, almost impossible to come true.
Despite the quality as a player that Mané showed from his youth, his family never agreed that he would try to be a football player. And since he never received family support, Sadio made his way alone and fought against all odds. His first step in France would open the door for him to fulfill his dream and shine today with Liverpool. But Sadio, of the Muslim religion, gives every free moment he has to carry out significant social tasks.
Sadio Mané has chosen not to be dazzled by fame. His noble, cordial, gentle character begins in dealing with his colleagues, and it expands to all the charitable works and social help he is carrying out. He has not forgotten his hometown. On the contrary, he has invested in hospitals and schools. He will even set monthly payments to the inhabitants of his town so they can support themselves. Sadio Mané is not only an example for the football world. He is a demonstration of the kindness that still exists in this world, where superficiality seems to take over everything. Everyone... well, except Sadio Mané.