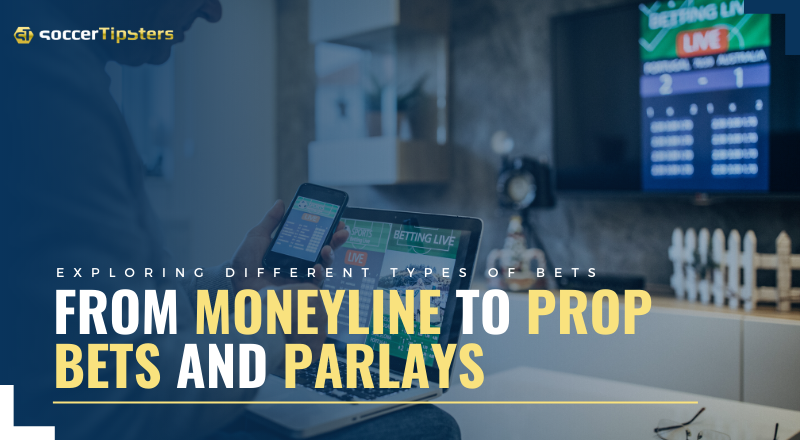 Betting Guide
Exploring Different Types Of Bets: From Moneyline To Prop Bets And Parlays
Discovering The World Of Betting: From Moneyline To Prop Bets And Parlays
As every bettor knows, you can place different types of bets. Most bettors mightn't be unaware that the more knowledge they have of a bet type, the higher their chances of scoring big. As such, every bettor should explore different types of bets: from money line to prop bets and parlays, to see which resonates with their style best.
Exploring Different Types Of Bets: From Moneyline To Prop Bets And Parlays In 2023
Below are some of the most important types of bets that every punter should be familiar with in 2023.
One – The Moneyline Bet
It is one of the most popular straight-type bets a punter can take in the industry now. You typically have to choose which side you believe will win a given event. It's worth noting that, with the money line bet, punters don't have to deal with a spread. As such, the odds featured here have a significantly more extensive range.
Two – The Over/Under Bet
The over/under bet or total bet is another type of straight bet punters can place relatively quickly. All a bettor usually has to do here is attempt to predict whether the final score of an event will fall above or below a given margin.
Three – The Prop Bet
More formally known as proposition bets, these types of wagers don't concern themselves with the final score that a sports event reads. Because of the unique nature of these types of chances, they have tons of offerings that you can explore. These include but aren't limited to player and game prop bets, to mention a few.
Four – The Spread Bet
It is the last type of straight bet that we'll be discussing. And, just like its predecessors, it's pretty uncomplicated to grasp. A bettor must pick a side (or team) and a number to operate in this betting market. This number is also the "spread." The spread is the value that indicates what the chosen team has to lose less or win the event by.
Five – The Parlay Bet
A parlay bet is the type of wager you get when you collect multiple stakes into a group and place them as a single bet. These types of wagers offer truly colossal payouts. However, winning here also comes with a catch; each bet or "leg" you placed must win, or you forfeit your stake.
Six – The Futures Bet
As the name suggests, a bettor has to make accurate future predictions to win in this betting market. It typically involves determining who wins a championship or a division after only a few games.
Bottom Line
There are several exciting types of bets that bettors can leverage to have a good time and make decent wins. However, it always helps to look at each option carefully before making a selection, as this will assist you in making the right call for you.