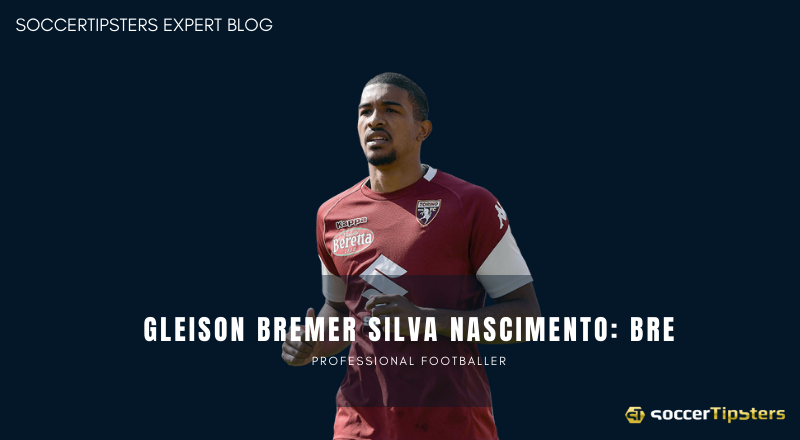 Footballer Reviews
Gleison Bremer Silva Nascimento: Bre
Gleison Bremer Footballer Reviews
Gleison Bremer Silva Nascimento (Itapitanga, 3-18-1997) has been Torino's and Italian Calcio's 'bull.' Indeed, the Brazilian center-back has yet to represent his country and is the best defender in Serie A. In the 2021/22 season, the Brazilian became one of the Serie A center-backs with the highest performance and progress.
Gleison Bremer Was Born Defender
"My father wanted to call me Andreas Brehme after the German international," Bremer told Torino Channel. His early idol was another defender with whom many people connect him: Lucio. Bremer arrived in Italy in the summer of 2018, when Torino paid 5.8 million euros to sign him straight from Atletico Mineiro. He only appeared seven times in his debut season between the Italian Cup and the league. There was too much rivalry at left-back in Walter Mazzarri's three-person defense. Moretti's withdrawal elevated him to undisputed standing in Torino's defense. In Ivan Juric's 1-3-4-2-1 scheme, no one can dislodge him from the defensive axis. Even he became the team's captain.
Serie A's Greatest Defender
Gleison Bremer's success at Torino has made him one of the biggest shocks in Serie A, and his statistics show this. According to the statistics portal 'Fbref,' Bremer is the defender with the most clearances (199), the most shots blocked (86), and the second in intercepted balls (117). Also, he was third in aerial duels won (154) and seventh in successful pressures (40.5 percent). Besides, he also can score. With 11 goals in the previous three seasons, including three in the most recent one, he is the top-scoring defender in Serie A. "I enjoy defending, but there is nothing better than scoring. I always want to score, and the coach instructs me to shoot forward when I get the ball back". He admits it.
Powerful Clubs Look For Gleison Bremer
The Brazilian international is one of Serie A's most sought-after players. Despite a recently extended deal until 2024, he is anticipated to depart the Granata squad in the summer. Inter Milan and Tottenham Hotspur are two teams interested in signing him. Bremer offered the Serie A heavyweight and Tottenham hope by disclosing his preferred tactical style. "I like a three-man defense because it is compatible with the system to which I have consecrated myself," he said. Inter and Spurs both use a three-person defense. Other teams interested in signing him typically use a four-person defense.
The Granata have agreed to set a transfer fee of 25 million euros for the Brazilian central defender in the next transfer market. Considering the player's performance and the fact that his market worth is higher, we must conclude that this is a relatively low price. Specialized portals like 'Transfermarkt' place a value on it of 30 million euros. Gleison Bremer's season at Torino has not disappointed any of the world's best teams. Many clubs have already expressed interest in him. Tottenham Hotspur, Manchester United, Arsenal, Juventus of Turin, and Bayern Munich are some of the first clubs interested in signing the Brazilian center-back in the next summer transfer window. But there will undoubtedly be many more.