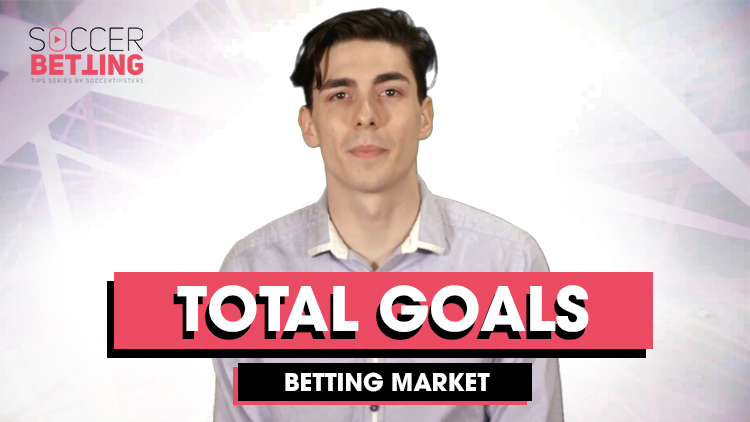 Soccer Betting Tips Video Series
Soccer Betting Tips | Total Goals Betting Market
Total Goals Soccer Betting Tips
Hi and welcome to another episode from the Soccer Betting Tips video series by SoccerTipsters. I'm Riley, and I'm the spokesperson for this video series. In this episode, we will look at another soccer betting method- the total goals soccer betting tips.
What does the total goals soccer betting tips entail, and how is it applied? One of the most common ways of betting on soccer games is betting on total goals. The total goals wager is simple- as it represents a way of trying to predict the team that wins a match. Also, it is one of the easiest to win money from soccer betting. This is why it is so popular among bettors- starters or professionals. But it is quite surprising that most soccer bettors do not win money from this wager, at least not in a consistent manner.
The reason can be attributed to the fact that it is so simple that many people just pick games randomly and guess in their head how many goals would be scored by the teams. Typically, they just follow instincts, and maybe a few take a cursory look at some factors they think are relevant. But it doesn't work just like that, especially if you are into soccer betting for money, rather than fun.
Total goals kind of wagering system in soccer can be over/under (which is the simplest of them all), alternative versions like a number of goals brackets, the exact number of goals, total goals by a team, and total goals by half.

So How To Can You Win The Total Goals Betting?
To make constant wins from betting on total goals, you need to follow the right approach. As you have with other forms of soccer wager, intense research is key. You can also watch other videos in this series to learn more about tips and tricks to overcome the betting systems. Also, you must pick your spots carefully and bet for the right reasons. Some tips to bear in mind include, but are not limited to:
Avoid certain games,
Balance your risk,
Consider small multiples,
Always do due diligence,
Study your leagues,
Track occurrences, not averages,
Identify the teams' scoring potential, and last but not least...
Consider recent meetings.
We hope you'd remember some of these tips and put them into practice. To learn more about other soccer betting tips, check out other episodes in this series.
Don't forget to hit the subscribe button to follow us so you won't miss any important episodes from the same series! Thank you for watching and good luck!