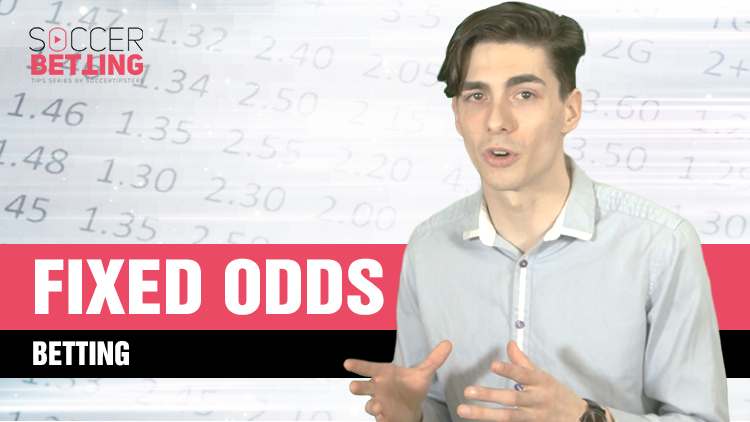 Soccer Betting Tips Video Series
Soccer Betting Tips | Fixed Odds Betting
Fixed Odds Soccer Betting Tips
Hi and welcome to another episode from the Soccer Betting Tips video series by SoccerTipsters. I'm Riley, and I'm the spokesperson for this video series. In continuation of the series, today, we will look at another soccer betting strategy- the fixed odds betting, and its winning tips. What are fixed odds in soccer betting, and how can it be used?
Fixed odds betting is a process of placing bets on pre-determined odds, which means you know exactly how much you stand to earn from the bet at the time of placing the bet. That is, no matter the degree of fluctuation in the odds after you have placed your bet, the potential returns will remain unchanged. Fixed odds betting is wagering against the odds provided by a bookmaker or other individual. It is easy for anyone to say, "I think Team A will beat Team B because of...".
But when some financial implication is attached, you need to be well-informed and trust only very insightful opinions. While there are diverse articles that regard how to make fixed odds soccer betting work for you, some of the key tips you can absorb are:
Do your homework: Adding selections to your bet slip anyhow is really not cool. You have to know every possible angle before placing your stakes. It is easy to think that Chelsea would beat Stoke City because it is your preconception of the teams involved. But have you taken the time to study what the stats imply?
Be mindful of stats such as the overall form of the teams, home/away form, head-to-head records, injuries and suspensions, player form, and upcoming fixtures.
Respect the Bookies: The odds given by bookies aren't plucked from the trees. A great deal of algorithm is put in place to arrive at the prices based on the probability that the event will happen. Therefore, you have to respect the bookmakers because they very rarely go wrong with their prices.
Stick to your guns: Having picked out a few fixed odds tips that have caught your eye, stick to your guns, and never waver.
Stake sensibly. Keep track of your teams' performances, and have an area of specialism, typically where you're good and comfortable betting in that area.
We hope this video has taught you a thing or two about betting on fixed odds. To learn more about soccer betting tips and tricks, don't forget to hit the subscribe button and stay tuned for more videos. Thanks for watching and good luck…