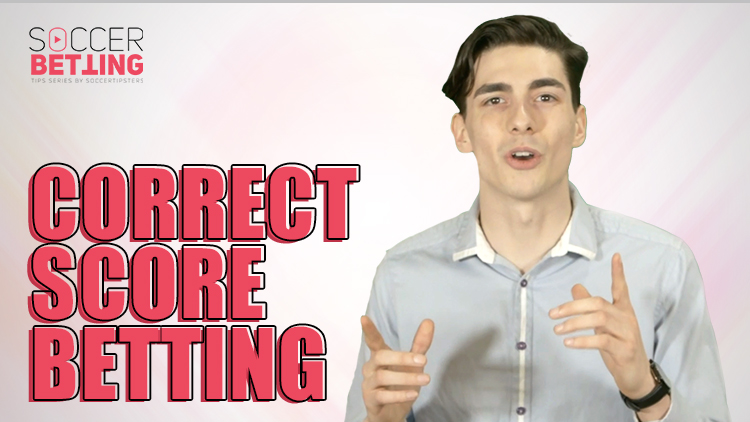 Soccer Betting Tips Video Series
Soccer Betting Tips | Correct Score Betting
Correct Score Soccer Betting Tips
Greetings and welcome to another episode from the Soccer Betting Tips video series by SoccerTipsters. I'm Riley and I'm the spokesperson for this video series. In today video, we will look at the correct score betting and also will share some betting tips to bet on this market. As the name implies, is it possible to predict the correct score of a match? What is the best approach to this kind of betting system?
Correct score bets are a popular way of betting on football matches. It is very straightforward- where you only have to select the correct score, and you are a winner if the score at the end of the game matches your prediction. However, it is funny how many people are wary of taking the risk to place bets on the correct score but it's totally possible to predict the correct score of a match.
How Correct Score Betting Works
In case of extra time, correct score bets end at the 90 minutes of play plus injury time. A correct score wager is typically self-explanatory. The bookies will offer a range of odds on many of the most common scores in a football match, and you just have to choose the most likely result. Correct scores have high odds and could offer high rewards. Meanwhile, even though getting the final score spot-on can be a herculean task, if you do, you will win big. Essentially, a correct score bet is a fine art and tends to work best when not singly placed.
Also, what is the best approach to this kind of betting market?
A correct score bet will offer better odds for your prediction that for a straight win/draw/lose single. Truth is, winning an outright correct score bet can be a bit difficult. Besides, it is often advised that you pair your correct score punt with other kinds of bet like the 1x2, Double Chance and Over/Under goals. This is to increase your potential pot or chances of winning. Some of the bets you can place alongside are with the accumulator tips offered by tipsters.
We hope this video has taught you a thing or two about correct scores. As we can see, it is possible to win bets with correct score betting. We have also uncovered the best approach. To learn more about other soccer betting tips from expert punters, don't forget to hit the subscribe button and stay tuned for other episodes from this video series.
Thanks for watching and good luck…