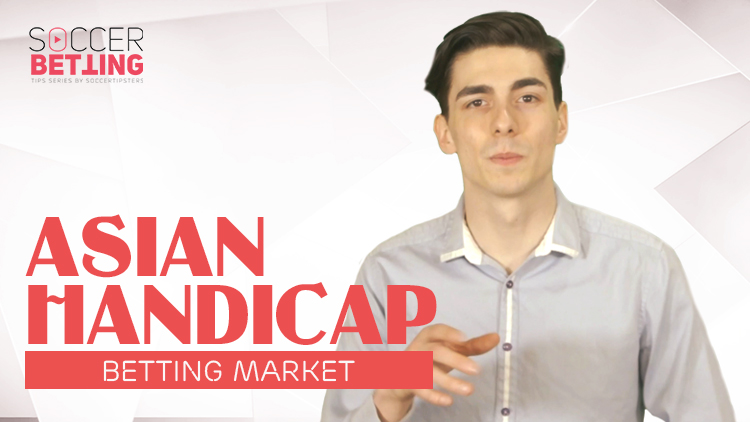 Soccer Betting Tips Video Series
Soccer Betting Tips | Asian Handicap Betting Market
Asian Handicap Soccer Betting Tips
Hi and welcome to another episode from the soccer betting tips video series by SoccerTipsters. I'm Riley, and I'm the spokesperson for this video series. In today video, we will discuss the Asian Handicap betting market. Specifically, what does the Asian handicap betting system entail? Football is undoubtedly the most-played and most-watched sport in the world. It is also the most prominent sports betting market. Asian handicap soccer betting is a popular method of gambling in the game of soccer.
Asian handicap is a type of soccer betting which is popular in Asia- hence the name. Handicap means that one team gets a "virtual head start" to lead the game by a certain amount of goals before the game starts. Simply, Asian handicaps are a goal head start. A '-' handicap with a team simply depicts that the team must win by more than the specified negative amount for you to win. For instance, if you see Manchester United with a -1.5 handicap, it merely means the Red Devils must win by two or more goals for the bet to payout. In this example, a final score of 2-0 means 2-1 and is a lost bet.



How to Use Asian Handicaps in Soccer
Again, the concept is straightforward, but the practice isn't that much. Basically, the Asian handicap market is suitable when the odds on your favorite teams to win are so short that you have to bet massively in order to achieve good returns. In other words, a win for the favorites is under probability. Thus, the Asian handicap market offers an incredible way of obtaining longer odds on a favorite winning- only be sure that you define your favorite from the start. Moreover, you can hedge your bets by laying wagers on the two sides of the handicap to get a better chance of winning. Nonetheless, you can still lose. Therefore, research is key to success because the market often relies on player form and other player-influenced events like injury, suspension, availability of a critical player, degree of the team winning comfortably, among others.
Asian handicaps are created to terminate the possibility of a draw in a soccer match, which eventually reduces the game to two possible outcomes. We hope this video has taught you a thing or two. To explore more soccer betting tips, hit the subscribe button below to get notification on the latest episode and we'll see you soon!
Till then, thank you for watching!