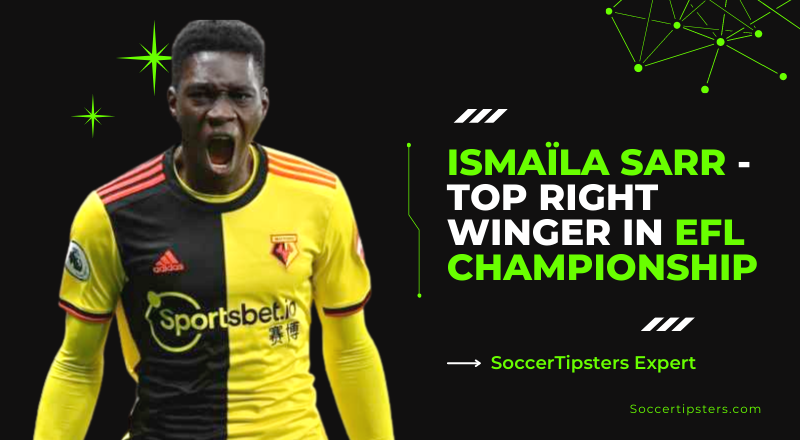 Footballer Reviews
Ismaïla Sarr - Top Right Winger In EFL Championship
Ismaïla Sarr Footballer Reviews
He is fast, skilled, and can score great goals. He is Ismaïla Sarr, the perfect winger for the England Premier League. Born in 1998 in Saint Louis, Senegal, this player is one of the best English football young talents. His physical conditions and technical skills made him an ideal player to triumph in England. So, since his first season in Watford, he became a regular in the Vicarage Road's team right flank.
Ismaïla Sarr is a right-handed player who regularly occupies both the left and right-wing. The counterattack plays favor him for his physical and technical qualities. His strong point is dribbling. Like his compatriot Sadio Mané, Sarr came out of AS Generation Foot, one of the best-known soccer academies in his country. He got out of there at 19 to go playing for Metz in France. This team opened the professional football doors to the Senegalese, and Sarr would take the opportunity to shine in Ligue 1. In his only season at Metz (2016/17), he played 33 games and scored five goals. At the end of that season, Rennes signed him in exchange for two and a half million Euros. In this team, he quickly took over the starting position, and his time there was successful. In two seasons with Rennes, he played 78 games and scored 18 goals. While on this team, Ismaïla would watch videos of Sadio Mane. Sarr observed his acceleration, his dribbling, and his goals.
In December 2018, goals from Sarr helped Rennes qualify for the 2018/19 UEFA Europe League's knockout stage. Likewise, he was rewarded with the prize "goal of the season" in this continental tournament. Also, in 2019 he would win his first professional title: the French Cup. Until then, the Senegalese had managed to triumph in one of the main European leagues, the Ligue 1. He played in France for three seasons and made a place in the national team starting eleven.
Ismaïla Sarr's Performance With The Senegal National Team
Ismaïla Sarr's progress with FC Metz led to his debut for the Senegal team. The coach of this team, Aliou Cissé, called him up, and thus he would become the youngest player in the 2017 Africa Cup. This was not something new for Sarr, since in 2015, at the age of 17, he played in the Africa Cup under 23. His performance in the 2017 Africa Cup was outstanding, and he became a regular player in the lineup. In that tournament, Senegal reached the final but lost to the Algerian team. Senegal's national team coaches also didn't wait to take him to the 2018 World Cup. Although Senegal did not make it past the group stage, they did a good job. Ismaïla Sarr played all three games as a starter and made himself known to the world.
Ismaïla Sarr At Watford
Sarr's outstanding performances caught the attention of English club Watford. This team paid 30 million Euros to take over the Senegalese in 2019. Last season, he was one of The Hornets' best weapons, scoring six goals and distributing six assists in 30 games. The Yellow Army is very pleased with Ismaïla's performance. Though, they do not discard to transfer the young attacker soon. In this sense, this player is expected to end up playing for a bigger club. Meanwhile, Watford fans can enjoy his talent.